Modern-Day Roofing and Exteriors offers both interior and exterior painting services. We only use high quality and high performing paints from some of the most reputable brands in the industry, including Sherwin-Williams and Behr.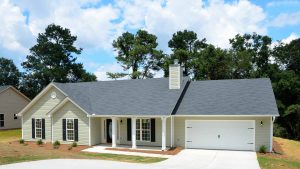 Whether you want the siding of your home repainted or want to make the deck in your backyard to look better than it has in years, we'll help you improve the curb appeal of the exterior of your property. We can even make repairs to your deck.
In our area, we're known for having unpredictable hailstorms, which can lead to both external and internal damage. Fortunately, our painters can come in and not only repaint impacted areas, but can also repair drywall or other areas affected by the storm. It's important to remember your insurance coverage for storm damage is only as good as the person who evaluates said damage. Often, we'll have claims that only note roof damage, but we'll do a thorough inspection and perhaps find damages not seen on the initial inspection. We'll negotiate on your behalf with your insurance company. Finding all issues and properly negotiating them could be the difference of thousands of dollars.
Typically, our jobs take about 4 days to complete from start to finish. Our company is renowned for our customer service, as evidenced by or 5-star rating on Google and our A+ rating with the Better Business Bureau. We are fully licensed and insured to do work throughout the state, and we offer FREE estimates on work.
For more information on the interior and exterior painting services we provide in Colorado Springs, contact us.